Special Contribution By Sardar Kartar Singh Thakral & His family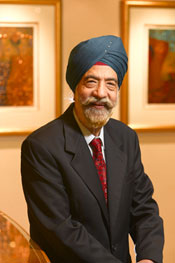 Sardar Kartar Singh Thakral from Singapore is making great contribution for humanity. His role in the field of social work is unprecedented. Particularly, he has been making big efforts in the field of education which turns out to be beneficial for the society. Although, he has been living in Singapore since long, he is heartily attached with Punjab which is blessed by Guru Sahib. He always stays ready for giving his kind cooperation for the betterment of the people of his country.
It is noteworthy that he and his entire family are deeply attached with Khadur Sahib (district Tarn Taran, Punjab) which is sanctified by the visits of eight Sikh Gurus and second Guru Sri Guru Angad Dev Jee spent around 13 years of Guruship here. Sardar Kartar Singh Thakral Ji and his family made unprecedented contribution in the welfare projects undergoing by Kar Sewa Khadur Sahib with the cooperation of Sikh masses. Following Sikh tradition 'Daswandh' taught by Sikh Gurus, he has been contributing sizeable amount since long, setting a unique example before the world.
Thakral family's main motive is to provide educational facilities to rural youth. Especially, Sardar Thakral desires girls belonging to underprivileged sections of the society to get high class educational facilities so that they can earn livelihood and bring change in fiscal condition of their families.